NSK Develops Extremely High Speed Needle Bearing for Planetary Mechanisms for Automobile Automatic T
NSK Develops Extremely High Speed Needle Bearing for Planetary Mechanisms for Automobile Automatic T
Author :Admin | Publish Date:2013-11-23 20:27:13
Greater Fuel Efficiency for Automobiles

Tokyo, Japan, October 28, 2013 – NSK Ltd. (NSK; Headquarters: Tokyo, Japan; President and CEO: Norio Otsuka) today announced that it has developed an extremely high speed needle bearing for planetary mechanisms* for use in automobile automatic transmissions (AT) and hybrid electric vehicles (HEV). This product is designed for the higher speed revolution of pinion gears and contributes to improved fuel efficiency in automobiles.

NSK is targeting 500 million yen in global annual sales by 2016 for this product.

*Planetary mechanism: A reduction mechanism used in ATs that adjusts output speed and torque by utilizing a combination of rotation and revolution movements of multiple gears.





Development Background

In recent years, automobile fuel economy regulations have become more stringent, resulting in multi-stepping of ATs and smaller, faster motors for HEVs. These advancements have created a need for higher speed revolution pinion gears for planetary mechanisms. In response to this need, NSK developed an extremely high speed needle bearing for planetary applications by applying a special coating to the bearing cage.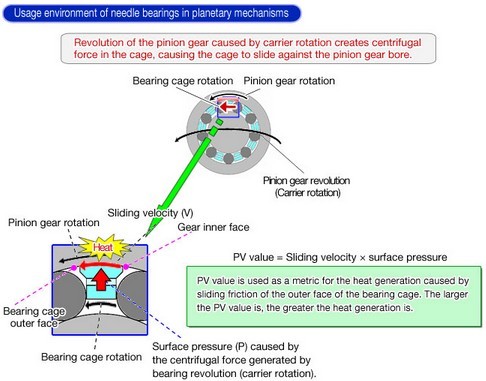 Product Features

Applying a special coating to the bearing cage reduces the heat generated by friction between the sliding area of the cage and pinion gear, and also improves cage abrasion resistance. As a result, the newly developed product can handle pinion gear speeds of approximately double that of the standard cage design, and about 1.5 times that of the current high-speed cage design.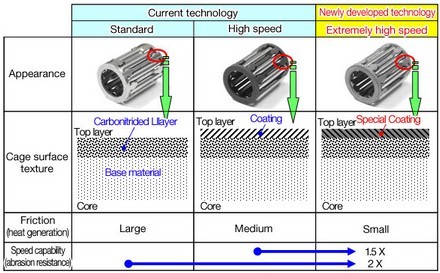 Product Benefits

(1) Higher efficiency through improved transmission design capability.
Produces higher efficiency for the transmission by allowing higher rotation speeds for the pinion gear and carrier.

(2) Compactness
The improved abrasion resistance (anti-seizure) of the newly developed cage with the pinion gear during high speed rotation enables a width reduction of approximately 7% compared to the conventional (high-speed) product. This contributes to a reduction in transmission size.