NSK Develops a Long Life WQTF™ Tapered Roller Bearing for Automobile Transmissions
NSK Develops a Long Life WQTF™ Tapered Roller Bearing for Automobile Transmissions
Author :Admin | Publish Date:2013-11-23 20:31:18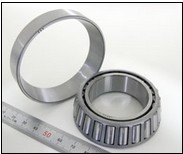 Helps Improve the Reliability and Fuel Economy of Automobiles
Tokyo, Japan, November 21, 2013 – NSK Ltd. (NSK; Headquarters: Tokyo, Japan; President and CEO: Norio Otsuka) today announced that it has developed a long life WQTF™ tapered roller bearing for automobile transmissions that helps improve the reliability and fuel economy of automobiles.
This bearing is tough enough to take on the ever-harshening conditions of transmission applications while also improving the efficiency of the transmission and reducing friction loss by about 40%. NSK is targeting 2 billion yen in annual global sales by 2018.
Development Background
Tapered roller bearings
for automobile applications are widely used in areas of the vehicle which are exposed to high levels of load. Furthermore, in recent years there has been a push towards smaller and lighter transmissions in order to improve fuel economy.
However, in order to achieve smaller and lighter transmissions, the bearings must be capable of longer rolling fatigue life and greater static strength (dent resistance) to endure environments exposed to foreign matter.
In response, NSK has developed a tapered roller bearing which solves both of these concerns.
Product Features
1. Use of highly reliable rollers
The rolling elements of these new bearings are optimized in terms of material makeup and undergo a special form of heat treatment for a stronger surface layer, providing approximately four times longer life than the conventional bearing.
2. Inner and outer races are composed of special heat-treated steel
The bearing steel is specially heat treated to achieve 20% greater static strength (dent resistance) compared to the conventional bearing.
Applications
This new bearing is suited to high load conditions where there is a potential for denting, useful for applications such as transmissions and differentials for automobiles.
Product Benefits
This new bearing is approximately 20% lighter and has about 40% less friction loss compared to the conventional bearing, making it beneficial in improving the fuel economy of automobiles.