SKF announces a robust angular steering column bearing for smoother drive
SKF announces a robust angular steering column bearing for smoother drive
Author :Admin | Publish Date:2013-11-25 20:40:08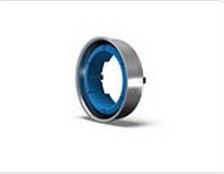 Robust angular steering column bearing
Gothenburg, 22 November, 2013: SKF has announced the launch of a new angular steering column bearing for passenger cars and light trucks.
The patented solution has been designed specifically for the next generations of luxury cars, electric vehicles, etc., in line with the automotive trend towards a more comfortable driving experience. To translate that trend through the steering system SKF has focused their studies on the reduction of both noise levels and vibrations transmitted from the road to the driver.
The innovative design of this new robust angular steering column bearing replaces the standard wavy spring a new patented rubber solution.
This change has resulted in a considerable reduction of the torque variation and contributed to the smoother steering feeling.
Features:
• 20% reduction on average torque
• 80% reduction on torque variation
• Less noise generation (–7/8 DbA)
• New patented bearing design
• Optimized pre-load system
• Possible customization (conductivity, bore shape, dimension)
Benefits:
• Low and smooth steering torque
• Improved driving comfort in term of noise and vibration
Aktiebolaget SKF